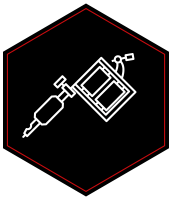 the values that define our way of working are: responsibility, cleanliness, hygiene, formality and post-tattoo service.

We have a wide variety of models and colours at your disposal. We like tattoos, they remind us people and situations in our lives or simply because they are fashionable.
We offer in our studio personalised tattoos, we take great care in the elaboration of designs for each client.
Our tattoo equipment is approved by the Ministry of Health, everything is disposable from the stretcher paper, cartridges, capsules to the needles that we use for each person and if you have to make a retouch, new material is used.
If you are looking for a unique design, write us or visit our studio.
Come with any ideas you may have, no matter how crazy they may seem, we will be happy to help you.
You are our source of inspiration: we keep up to date with the latest trends to make the best selection of tattoos, micropigmentation and piercing. We can always offer you what you wish.
We advise you professionally and competently.
If you have a special request, we will study your request and select the options that best suit your personal needs.
Often, the plethora of fashion trends causes a certain amount of confusion.
What is fashionable does not always suit everyone. We will advise you extensively and make sure that you are satisfied with the latest.
Our advice tailored to your personal style will help you find what you like best.

If you would like to make an appointment or have any questions, please do not hesitate to contact us.
We will be happy to help you.
Thank you both, I really enjoyed the work you have done. 100% recommended!
I love their work, they have quality at the best price. 2 tattoos y 2 piercings, soon the third!
These guys are great, I'll be back for another tattoo soon!
I was nervous about the result I could get, now I'm nervous about showing it to others! THANKS
I have tried 4 tattoo studios and I have stayed with Tattoo Me. They are true professionals and their work is high quality.