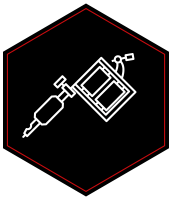 If you are looking for a unique design, write us or visit our studio.
Come with any ideas you may have, no matter how crazy they may seem, we will be happy to help you.


If you would like to make an appointment or have any questions, please do not hesitate to contact us.
We will be happy to help you.
Thank you both, I really enjoyed the work you have done. 100% recommended!
I love their work, they have quality at the best price. 2 tattoos y 2 piercings, soon the third!
These guys are great, I'll be back for another tattoo soon!
I was nervous about the result I could get, now I'm nervous about showing it to others! THANKS
I have tried 4 tattoo studios and I have stayed with Tattoo Me. They are true professionals and their work is high quality.